Interview Questions for Finance Jobs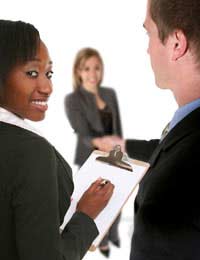 Knowing the right interview questions specifically for finance jobs will impress potential employers. Although most of the interview questions will come from the employers, candidates should also have a list of questions ready.
The questions you ask may make a difference to the outcome of the interview and they should be considered carefully before the actual job interview.
Why Ask Interview Questions?
During a job interview you will be bombarded with questions from potential employers. Usually towards the end of the job interview you will be asked if you have any questions, this is your chance to put forward your relevant questions. It is your chance to find out if this really is the right job for you. Potential employers will be impressed if you have a list of relevant questions; under no circumstances should you say that you do not have any questions for an employer.
Relevant Questions Show Serious Interest
Asking relevant questions about the employment company and your role within the company will let the employer know that you have undertaken some research. This will in turn make employers aware that you are serious about the job on offer. By researching beforehand and asking questions about the company you are already showing a level of commitment. It is true that many candidates attend employment interviews knowing nothing of the company that they intend to work for and this does not impress employers. Asking the right questions will show that you have a serious interest in working for the company.
Preparing Interview Questions
Before you attend the interview sit down and make a list of points you would like answered concerning the job. This is an interview for employers to view you as a potential employee but it is also an interview to see if you would like to work for this company. Set out the questions that you would like answered with regards to your place in the company, your long term finance career prospects and what the company can actually offer you. Such interview questions show that you take your career seriously and want to make sure the company is right for you.
Interview Questions to Ask
There are no set in stone questions to ask for finance jobs as each finance job will be different. However, there are interview questions that will show you take the potential employer seriously and that you have an interest in working for them. These questions can include:
What are the long term career prospects within the company?
Do you think I have attributes that will enhance the team?
Can you tell me the long term prospects of the company and your recommendations for working here?
Are there training and staff development programmes set in place?
How much input will I be allowed with regards to enhancing company productivity?
Is there any travel within this role?
Do you have any reservations regarding my ability to undertake the job?
What would I be expected to accomplish when I first start this job?
Who are the main people I will deal with on a daily basis?
Interview Questions Not to Ask
When it comes time to ask interview questions many candidates make the mistake of simply asking about pay and holiday time. Asking these questions during the job interview does not show a valid interest in the company or in the job role and should be avoided. Pay may be discussed through the job interview if it was not detailed in the job speculation. By avoiding questions on time off, sick pay and flexi time you will show that you are more interested in the actual job than the perks and benefits that the job will bring.
Not asking the right questions during a job interview can be as detrimental as not asking any questions. Employers want to see that you have seriously thought about this job and the company you are considering working for. Asking questions is usually the last chance you have to impress employers during an interview and this chance should be taken. The right questions can make all the difference towards achieving a successful interview and winning the job.
You might also like...