Salary Expectations and Benefits of a Banking Career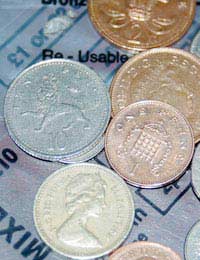 The salary expectations and benefits of a banking career will vary depending on the level of job and location. A career in banking can be very well paid and there are annual bonuses.
Bank managers do earn a good salary but there are wealth of different job areas within the world of banking each with their own pay rates.
Is Banking a Lucrative Career Choice?
In terms of salary, banking can be a good option if you are looking for a high wages. Bank Managers can expect to start off with average salaries of around £22,000 to £28,000 per year. This pay rate will rise and managers can expect to be earning around £40,000 to £50,000 within a few years. These salaries are basic and managers that live in large cities such as London can earn around £65,000 and upwards.
Entry Level Salaries
Banking salaries in entry level jobs will vary depending on the job, the employee's educational qualifications and previous work experience. Average salaries will usually start at around the £14,000 mark and then will rise every six months or annually. Salaries may also be dependant on age and will vary between banks. However, talented and hard working employees can expect to rise quickly with in-service training programmes and salaries will rise accordingly.
Other Salary Additions
There is also a number of bonus and performance related pay issues that exist in the world of banking. A great many of these bonuses and performance related additions will be sales related. However, profit sharing does exist in some banks and building societies and this may rise depending on the job type. Profit sharing can also be dependant on the amount of long service an employee has with an institution. Annual bonuses and profit sharing will usually be a percentage of the employee's actual salary.
Banking Benefits
Bank employees do receive a number of benefits and these can come in the form of low rate financial products. For instance bank employees may receive lower rates of interest on their mortgages. Employees may also receive lower life and insurance cover and low cost medical cover. Private health care and low cost dental plans are also options that are available to permanent bank employees; these benefits may also be dependant on their length of service. Company cars are usually an option for higher level bank employees or sales employees who need to travel frequently due to the nature of their job.
Travel Options
Many banks have branches based throughout the world and employees may be eligible to work abroad at some point during their career. Relocation costs will usually be covered by the employer and salaries can rise depending on the country and the job role. Travel is a major incentive for many employees and is one of the reasons a lot of people choose a career in banking and finance. Working for a foreign branch for a few years can also help with an employee's career progression and higher salary prospects.
Banking Rewards
There are also number of rewards that bank employees can take advantage of. These rewards will be different for each bank but can include discounts from many high street retailers and leisure groups such as health clubs. There are also reward options such as low cost holidays, childcare vouchers, tax saving benefits and even free legal advice. All of these rewards, benefits and bonuses do add to the existing salary. Anyone who is looking at a banking career as a long term option can usually expect to receive very good bonuses on top of their existing salary.
A long term banking career is usually quite a lucrative option especially when it comes to higher level employees. Bonuses and rewards can be substantial and do add to the existing salary. On top of this there is usually a huge range of low cost financial products and services available to the banking employee. All of these bonuses and profit related pay issues will usually be dependant on length of service, so taking the long term career view would be a wise option.
You might also like...
I am currently living in India and want to immigrate to UK. I want a career in banking. Can you please advise me on this, how can I get a banking job in UK?
Amar
- 18-Jun-19 @ 6:57 AM
I love accounting which career would I choose
lutendo
- 13-Aug-17 @ 4:59 PM