How to Handle Behavioural Interview Questions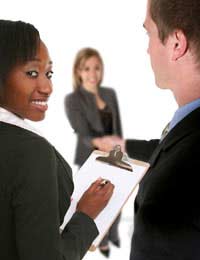 Job interviews are nerve-wracking, even at the best of times. The most effective way to prepare for a job interview is to anticipate the questions that you might be asked beforehand and to have a good idea of how you intend on answering them.
In the financial industry, many companies use an interview technique known as 'behavioural interviewing'. Understand how such questions work, and the answers that the interviewer is looking for will be a significant step towards achieving a successful interview.
What Are Behavioural Interview Questions?
Behavioural interview questions are relatively easy to recognise. During the interview, the interviewer might ask you a question that begins along the lines of "tell me about a time when…" or "give me an example of when you did…"
The interviewer is deliberately asking open-ended questions that ask you to tell them about your previous experiences and, in doing so, give them a better idea as to how you will behave during similar situations in the future.
What is the Interviewer Looking For?
Behavioural interviewing techniques emerged out of two commonly held psychological theories. The first being that most successful employers are good at their job not because of their technical knowledge of the role, but more because of their behaviour and responses to certain situations as they arise.
The interviewer will be hoping to see strong signs of skills such as good oral communication, the ability to think on your feet, paying attention to detail and working under pressure to tight deadlines (commonly known as 'soft skills').
The second theory associated with behavioural interviewing techniques is that such behaviours rarely change to a significant degree over time. Therefore, if you are able to demonstrate sound behavioural skills that you applied to previous roles, there's no reason why you shouldn't be able to continue to apply the same skills in your next job.
How to Prepare for Behavioural Questions
Ensuring that you are prepared to answer behavioural questions during an interview will largely depend on the types of behaviours that the interviewer expects a suitable candidate to demonstrate.
Usual examples of these behaviours within the financial industry would include good communication skills, good analytical skills, decisiveness, independence, flexibility and good teamwork skills.
In order to demonstrate such qualities, and others, make a start by reviewing your CV and looking for examples of each behaviour you are looking to demonstrate within each role or previous experience.
It often helps to write out a brief paragraph that sets the scene and offers a good example of the behaviour. Don't be tempted to embellish or indulge in a flight of fancy: you need to make your examples honest and realistic or the interviewer will see through them.
Remember that you are trying to find a role that suits you and one that you will flourish in. There's little point in pretending to be someone you are not as even if the interviewer is fooled, the chances are that you will quickly be found out once on the job.
Giving Descriptive Answers
Some people find giving descriptive answers about themselves difficult or embarrassing. A simple way to get round this is to think about your answers by using the STAR method. STAR stands for Situation, Task, Action and Result.
First, think about the situation that you'd like to relate. There's no need to describe the scene exhaustively, but an accurate but brief description will help the interviewer gain a better understanding of how you respond to different situations and the way you frame them in your mind.
Next, think about the task you faced, describing how you analysed the problem or situation.
Describe the action that you took, step by step, pointing out any hurdles or obstacles that you negotiated along the way.
Finally, focus on the result that you achieved. Were you successful? Did you save the company money?
Expecting the Unexpected
No matter how much preparation you undertake, the chances are that you will be asked a question that you hadn't thought of before the interview. In such instances, take your time and think about how you answer the question before starting to speak.
Most interviewers like to catch their prospective employees on the spot, but they also hope that they will be unfazed by the unexpected and be able to think quickly and clearly about how to answer something they weren't prepared for.
If, however, you cannot grasp an answer, don't take an inordinate amount of time over it. Far better to admit defeat on a single question and move on, hopefully to something that you can answer.
Behavioural interview questions are nothing to be afraid of and are a regular part of most interviews these days. With some good preparation and some clear thought about how to use the STAR technique you should be able to give your interviewer the answers they are looking for.
You might also like...