Entry Level Finance Jobs to Consider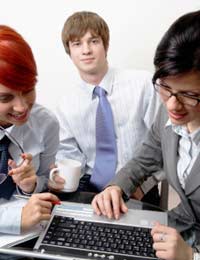 There are many entry level finance jobs to consider as a way of finding a route into a financial career.
Entry level jobs can be a good stepping stone regardless of whether you are a graduate, looking for a career change or want a finance job but have no qualifications or work experience.
What Are Entry Level Jobs?
Entry level finance jobs are a way of getting your foot in the door and making a start on your finance career. This does not mean that entry level jobs are low paid and without prospects. For instance, entry level accounting jobs can start of at around £23,000, although salaries will usually be dependant on qualifications and experience. Many entry level jobs can lead onto bigger and better things and are also a good way to find out if you wish to continue on your chosen career path.
Where to Find Entry Level Jobs
There are numerous resources available for people looking to break into the financial world. Options to consider when looking for entry level finance jobs will include:
Recruitment agencies.
An internship within a national or international company.
Employment websites.
Local job centres.
Employment magazines and financial magazines.
Listings in quality and local newspapers.
Applying directly to companies that interest you.
Recruitment Agencies
Recruitment agencies are an excellent way of finding entry level jobs. There are agencies geared specifically towards financial jobs and they will have a great variety of entry level finance jobs available. If you have never worked in the finance world then entry level jobs can include payroll clerks, accounts assistants, purchase ledger clerks, accounting jobs and credit control jobs. Recruitment consultants will be able to advise on the best route to take if you are considering finance as a career. They will also be able to find the best fit for your skills and qualifications.
Consider a Finance Internship
An internship is a great way to start off your financial career. You will be able to gain invaluable employment skills, see if the financial world is right for you, and you should receive some form of payment. For students that have not yet qualified or have recently qualified an internship is a good way to gain valuable work experience, and an internship can even be taken during the summer breaks. An internship can also lead to academic credits if you are studying and the internship is related to your actual educational course.
The great thing about an internship is that you can apply for one abroad, which will also look good on a CV. Many of the major international finance companies advertise their internship positions on the Internet. You can look for companies that you would be interested in working for on the Internet and in financial magazines. Don't forget an internship can sometimes lead to a permanent position if you impress the right people.
Non Qualified Entry Level Jobs
There are many entry level finance jobs available to people without the necessary work experience or qualifications. If you are serious about obtaining a career in finance then entry level jobs could be your way in. Basic high school qualifications will be needed and the pay will usually be low to begin with. But employees with an aptitude for this sort of work can soon work their way up within a company and apply for higher level jobs. Many employers will actually pay for employees to gain qualifications if they see commitment and job ability from employees.
Entry level jobs are a great way to break into a career in finance. Take your time to find the jobs that have firm career prospects if you are seriously considering a finance career. If you are not sure what financial career is right for you then take professional advice before apply for any jobs.
You might also like...