What Prospective Employers are Looking For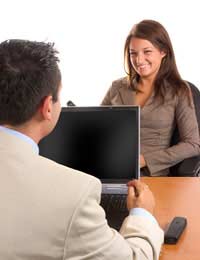 Knowing what prospective employers are looking for is not always a straightforward business. If you have the qualifications for a specific finance job you may think that is all that will be required.
But employers who are recruiting for staff are looking for certain attributes in their potential employees.
Knowledge is Power
Before attending any interview make sure that you have undertaken research on the company you are applying to. The more you know about your chosen company the better. Employers that are recruiting will be impressed if you have taken the time and put in the effort to research exactly what their company does. If you are up against a candidate that has not undertaken this research you will already have a head start.
Commitment to the Company
It may seem strange to say that an employer is looking for a commitment to their company from a potential employee who has not even started the job yet. However, your past employment record will give an indication whether or not you do have staying power. If your CV shows that you chop and change jobs regularly then it may go against you in the hiring process unless you have valid reasons. If this is the first job you have applied for since leaving university or college then the fact that you managed to stay the whole university course does show a high level of commitment.
Careers Not Jobs
An employer spends a great deal of time and money when recruiting staff and they want to make sure that this effort is not wasted. They will want to know that you are looking at what the employer has to offer in terms of a career not simply a job.
Employers do not like to think that they have given valuable time and money for an employee to simply leave for another company. By explaining that you are looking for an employer who can offer long term career prospects it will show commitment and dedication to the intended employer.
What Can You Bring to the Company?
Apart from your own qualifications, personality traits and intelligence there are a number of attributes that employers will look for when recruiting. They will question you on a number of different aspects of your personality to find out what you can bring to their company. Employers want to know that you will enhance the workplace in some way; paper qualifications are not always the be all and end all. Factors that hiring employers will look out for will include:
The ability to work well within a team
The ability to work well alone and use own initiative
Examples of any ideas by the employee that have enhanced company productivity within a previous job
The added value that you will immediately bring to a company
A degree of knowledge of the industry you are choosing to work in
A level of intelligence, common sense, and the basic skills needed for the job
Analytical and problem solving skills
Personality traits that will enhance a team that you will be placed with
A good level of communication with colleagues and clients
These factors are not definitive and recruiting employers will have different requirements depending on the type of employment. However this is a basic list of points that employers will look carefully for when recruiting for finance employees.
Previous Finance Work Experience
Some employers who are recruiting will look on actual work experience as more important than qualifications. Of course this is not true of all jobs where qualifications are a simple necessity. However candidates that have had experience working within a financial environment together with qualification may be looked on more favourably than a candidate without work experience. If you have just qualified or are still studying then consider taking temporary finance work during the summer breaks. This will give you valuable work experience within the world of finance and show a high level of commitment.
Careers in the financial world are much sought after and there will be a lot of competition for vacancies. Identifying your employer's needs and requirements and proving that you can bring something unique to the recruiting company will be beneficial.
Research on your intended company is vital and should never be taken for granted. Researching the company will give you an edge at interviews and will definitely impress potential employers.
You might also like...