Interview Do's and Don'ts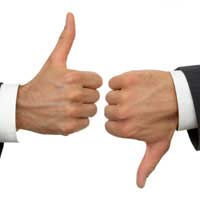 If you are looking to find a job in the City, you need to make sure that your interview technique is up to scratch. Here is a rundown of what to do - and what not to do - in your interview.
Do: Make a Good First Impression
Why are the first few seconds of in interview the most important? Because people base their initial opinions on their own preconceptions. If you are interviewing for a job in the city you should start by ticking the right boxes for such a role. Be professional. Wear a business suit, regardless of how relaxed the company is in their own dress code.
Do: Your Research
There's no excuse for not knowing about the company interviewing you, but you would be surprised how many interview candidates don't make the effort. Take some time before your interview to find out a little about the company, it's competitors, and the industry the company belongs to.
It is also well worth visiting the company's website for press releases or announcements, as well as finding out any recent press stories, good or bad. If the company interviewing you is listed, check the stockmarket to see how the company's share price has been performing. If you're working in the investment industry, make sure that you know roughly the level of the FTSE 100 on the day of your interview!
If you demonstrate a good understanding of how the company is run, and the challenges it faces, then the interviewer will see as you as someone already up to speed with the company.
Do: Anticipate Tough Questions
Any interviewer worth their salt will examine a candidate's CV beforehand and look for areas that they think might conceal a weakness. Perhaps one of your previous jobs only lasted six months, or your 'gap year' seems to stretch out to nearly two years. Career blips happen to the best of us.
Make sure that you know your CV inside out and that you have answers to the questions you would prefer they didn't ask you. Chances are those are the questions they will be keenest to hear you answer. Be natural and try not to sound too rehearsed. Your responses should always seem thoughtful, measured, and off the cuff, demonstrating your ability to think quickly on your feet.
Do: Come Prepared
You might have an outstanding CV, bags of experience and all the relevant skills and qualifications needed to do the job. However, if you don't convince the interviewer that you can apply all your attributes to this particular job, you run the risk of being passed over for an inferior candidate.
Bring examples of previous work, if possible, or prepare some examples to bring up in discussion if you can. It's all about convincing the interviewer that you stand out as the ideal candidate and that all of your experience and qualifications have brought you to this particular job.
Do: Listen
This is possibly the most important item on the 'do' list, and the one most frequently ignored. Most people during a discussion are only half-listening to the other person talking. Instead of listening they are thinking about what they will say when it is their turn to speak.
In a conversation you can get away with this, in an interview situation, when you are being judged on your responses to difficult questions, this weakness can be disastrous. An interview should be a conversational exchange, not a one-way street. Make sure that you ask for clarification if you don't understand the phrasing of a question, or even repeat the question back to the interviewer just to make sure you know what they are asking.
If you are attentive and listen well you should be able to pick up on 'hot buttons' for the interviewer (character traits they admire, skill sets they are looking for) and you can tailor your future answers to hit those buttons.
Don't: Forget Your Manners
Make sure that in your eagerness to impress or appear knowledgeable, you don't over-do it by talking too much or, even worse, interrupting the interviewer. Remember that it's not all about you. The interviewer wants to take the time to tell you about the job, to make sure that you have a full understanding of what the role entails. If you don't have time to listen to them, you'll come across as someone not interested in learning.
Don't: Be Negative
It's tempting to go into great detail about how your previous boss didn't appreciate you or your ideas, or how you worked for an organisation where hard work wasn't rewarded. Avoid being negative about previous jobs at all costs. If you give in to these temptations the interviewer will start to wonder if you would be griping about them in similar fashion in a few years' time.
Don't: Appear Mercenary
Let's be honest, we are all working for the money, especially those of us working in the city. Employers know this and interviewers do too, they just don't want their potential employees to be too brazen about it. If your interview is going well, at some point, the subject of money will crop up. Try to avoid being the person who raises it.
In fact, if possible you should avoid having a conversation about salary expectations or benefits until the final interview. If you wait until you have a strong indication of the company's interest in you, you will be in a better position to negotiate a higher offer.
Don't: Be Dishonest
Not many people tell bare-faced lies during an interview, but a far greater number of people embellish the truth. Try to answer questions as truthfully as you can. Most of us have 'tells', little involuntary actions that make it apparent to other people that you are not telling the truth, and sharp interviewers are always quick to spot them.
For example, did you know that if you look up to the left when you answer a question, this supposedly shows that you are using the creative side of your brain to form your answer? Interviewers do, and if you are being creative too much, they will start to doubt everything you say.
Don't: Get Discouraged
If no firm offer is made, or specific salary discussed after your interview, don't be discouraged. The interviewer might need to interview other applicants, discuss potential candidates with a superior, or talk to an agency before making a decision. Remember that the harder you work, the luckier you deserve to be.
You might also like...