Your Career Questions Answered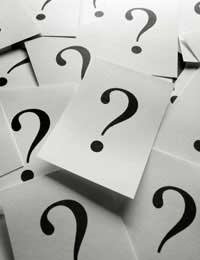 Interested in forging a career in the City? Here are some questions and answers relating to employment within the financial industry.
Q: I graduated last year with a degree in Geography, but I am interested in a career in the financial sector. However, whenever I receive a job specification it seems to be full of jargon. If I manage to find a job with a financial company, am I going to struggle to understand what everyone is talking about?
A: Not sure of the differences between a CDO and a CDS? Worried about derivatives, arbitrage, futures, hedges, longs and shorts? Well don't be too concerned. All businesses come with their own set of seemingly impenetrable jargon.
Financial jargon can be divided into three varieties; abbreviations used to describe products, such as CDO (collateralised debt obligation) and CDS (credit default swap), industry-wide technical terms such as arbitrage, derivatives, hedging and shorting, and also jargon that relates specifically to products or projects controlled by the company itself.
The first two forms of jargon can easily be discovered before you even get to interview stage. You can look on the web to find out more about products or industry terms.
Once you are hired, if you want to discover the technical jargon used by the company, carry a notebook with you and don't be afraid to ask colleagues or your boss for an explanation. Remember that you are being employed for what you can bring to the role, not for your industry experience, so don't be afraid to ask if there's something you don't understand.
Q: What sort of professional qualifications would I need for a career in investing?
A: If you are looking for professional investment qualifications, there are two to consider. The first is the Investment Management Certificate (IMC), which is considered the entry-level examination for most people working in investing, from sales people, marketing and investment analysts.
The IMC is classified by the Financial Services Authority as a 'threshold competency' exam, and is administered by the Chartered Financial Analyst (CFA) Society.
The exam itself aims to test candidate's knowledge and understanding of financial markets, investment vehicles and 'principles of investment management'. The course is broken down into two units, with one covering Investment Practice and the other focusing on UK Regulations and Markets. You can choose to take each unit individually, or both units in one three hour exam.
The IMC is considered to be a good all-round introduction to the financial services industry. It also acts as a stepping-stone for the more extensive CFA qualification.
The CFA qualification is a three-year self-study course for investment professionals who are looking for a high level career within investment management.
There are three levels and three sets of exams. Once you have passed all three levels, you are considered to have met the professional requirements laid out for the CFA Society. You then become a CFA Charterholder and member of the CFA Institute.
The CFA is widely recognised as a difficult qualification to attain, and it complicated by the fact that the syllabus keeps changing as the investment world and regulations continue to evolve. The hard work is worth it though, once you pass you have achieved a level of excellence within the investment world and your skills will be highly sought after and rewarded.
Q: I am quite a confident person, and am interested in a career in financial PR. However, after my last interview I was invited to a candidate lunch where we would be given the opportunity to meet top-level executives within the company. The thought of this is pretty nerve-wracking! What should I do to prepare for this?
A: First of all, look at the positives. This is your opportunity to impress the company and secure the position you want. It is also your chance to learn more about the role and the people you'll be working with. Not many candidates get this sort of face-to-face time with potential future colleagues!
Chances are that some of the people you will be meeting will have gone through a similar ordeal when they joined the firm, so don't feel like you're mistakes will be pounced on.
There's nothing wrong with a bit of preparation. Practice introducing yourself, and make a list of questions that you would like to ask, preferably ones that can be easily slipped into conversation. During the lunch itself, makes sure you keep it simple by avoiding potentially messy food and stay away from alcohol!
Most importantly, remember to smile and try to take as much as you can from the experience.
You might also like...