Moving on Into Management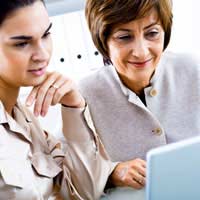 If you're happy in the company where you work, your short-term career goals most likely include making the move on into management. In that case, to give yourself the best chance of success, you will need to prepare for promotion by acquiring new skills and possibly more credentials.
A move into management requires the demonstration of the necessary skills to increase your responsibilities. First, increasing your responsibilities requires a step change in your thinking. No longer will you be responsible for just your own workload. The management track is for those who are willing to look beyond their individual role and to move beyond their comfort zone.
Many companies expect new managers to undergo a specific management training module that will define your role, set expectations, provide performance management reviews and tips on motivating employers, most of the skills you need to bring out will be found through trial and error.
So how do you get to the stage where you will be considered for a management role?
Positioning Yourself
In order to get yourself promoted to management level, you will need to consider ways to hone your management skills. The most important of these skills include the ability to provide constructive feedback, to mentor staff who work under you and, where necessary, to hire and fire staff.
Understanding How You Work
If you are interested in leading a team it is also important to be brutally honest about your people skills and your preferred way of working – either alone or in a group.
Think about why you want to be a manager. Is it because you believe you are ready to lead a team or is it because you are bored with your current role and need to find something different to do?
Some outstanding individual workers have failed to become adequate managers simply because their way of working is not conducive to overseeing the work of a team.
Getting Help from Your Company
Unless you are a natural born leader, you'll need some assistance to fine tune these skills. Hopefully you will be working for a company that has a strong professional development programme and encourages employees to apply for management positions.
It is worth enquiring for starters whether your firm will support you with training in for example, public speaking and other communication skills seminars.
You should also consider signing up for additional assignments that will afford you the opportunity to develop the skills that will need to be in abundance in a management role, for example volunteering to represent your department in group presentations or joining external associations.
These kind of 'extra-curriculum' activities may seem like hard work, but if you are serious about taking on a management role you will need to demonstrate your commitment and willingness to go beyond what a standard employee is willing to do for the company.
Don't be Discouraged
If you have been unsuccessful in your efforts to break down the barriers to management, ask for constructive feedback from the decision-makers. It is also worth conducting an honest personal assessment of the strengths and weaknesses that you displayed in the selection process. Ask yourself the following questions:
Did you successfully articulate your personal and career goals?
Were you able to generate positive feedback from colleagues?
Did you demonstrate a commitment to the company, and the team?
If the answer to those questions is yes, then it may be worth discussing with your company's human resources department what other criteria you appeared to be missing. You may not get the answers you want, however, and if so, then you may decide that your management opportunities may lie within a different company.
Management is certainly not for everyone, but can be both mentally and financially rewarding, provided you have the drive and willingness to succeed. If you are determined to get into management, don't be discouraged because perseverance and persistence are both genuine management traits.
You might also like...