Dealing With Employment Agencies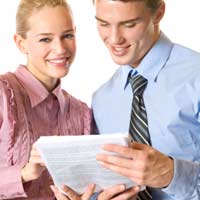 If you are looking to change career or find a new job opportunity, chances are that you will have to call on an employment agency or recruitment company to help you find the role you want. Most large companies prefer to deal with agencies to find new recruits, so if you are looking for a job in the financial sector you'll need to learn how to make friends with employment agencies.
However, there are a wide variety of different agencies to choose from, and some are naturally better than others. Employment agencies are focused on generating profit, and with some of the less reputable ones, this takes precedence over finding the right role for clients.
Understanding the Relationship
As a jobseeker, it is worth remembering that agencies are paid first and foremost by the companies who are looking for candidates. Recruitment consultants get paid by their results, which means keeping their two sets of clients (companies and potential employees) happy, but naturally the client who pays is of primary importance.
Providing you understand how employment agencies operate you can build a successful relationship with them that will help you find the job you want.
Working with Agencies
When dealing with agencies you need to consider the three following points:
How to increase the chances of getting an interview
Making sure the agency understands the role you're after
Ensuring that the agency will be working hard on your behalf, without causing you difficulties
Any good employment agency will only want to put forward suitable potential applicants who have a passion for the work and the skills required to secure the role. Your first task when dealing with an agency is to convince them that you want the job, and would be a successful appointment.
Most agencies will get into contact with you to discuss a specific job vacancy. They may not know about your suitability for other roles unless you point it out to them!
Be Sympathetic to how Agencies Work
Often agencies get very excited after seeing a good candidate join their books, but what often happens is that after an initial flurry of potential job opportunities and interviews, the phone tends to go quiet and you start to feel a little unloved.
While you might be the most suitable candidate for a role, agencies have a high turnover of clients, and if the agent finds someone that they think is better qualified or displays more commitment to finding a role, then you could find yourself pushed to the back of the queue when roles come in.
Make sure that you stay first and foremost in the agency's mind by keeping up contact during these first few weeks, so that the agency thinks of you the next time a promising job opportunity arrives in the agency's inbox.
Just as some agencies can forget that you are currently in a job and may not find it convenient to discuss another role at work, always bear in mind that the agency will be busy trying to fill a number of different roles.
Don't be angry if they don't call you back, but be patient and try them again at a more convenient time for both of you. Remember that every agency and recruitment consultant is different and has a different way of working.
Employment agencies can be invaluable in helping you find the most suitable job to match your skill sets and ambitions. They are also excellent in helping you discover more about your interview technique, your strengths and weakness and can be vital in polishing up your CV.
Think of the relationship with your recruitment agency as a partnership and you should be able to develop a sound working relationship that will ultimately lead you to the job you want.
You might also like...