How to Develop Your Financial Career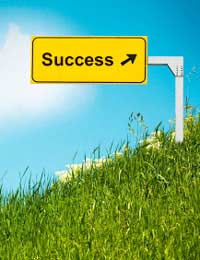 Winning the right the job is the first step to career success but knowing how to develop your financial career should be the best route to rapid career progression. Having the correct qualifications is important, but a combination of hard work, commitment, and networking will also be useful.
The First Step on the Career Ladder
Finding that first perfect financial job and how you act with regards to company commitment is important. Your first job and the impression you make within it could have either positive or negative repercussions in the future. This is definitely your time to shine, it is your chance to make employers sit up and take notice of your commitment and drive in the workplace. First jobs are usually where the groundwork is laid, especially with trainee positions, and showing a high level of energy and dedication will go a long way towards impressing employers.
Choose the Right Company
Choosing the right company is all important when it comes to career development. If you have already laid out a career outline plan then you should have some idea of your future goals and ambitions. The company you choose to work for should be able to help realise these ambitions. For instance, if working abroad is high on your list of goals then you should look for international companies with branches around the world. Developing your career will have a lot to do with the initial choices you make. Making the right choices at the beginning will save a lot of time and effort with regards to job changing in the future.
Qualifications and Training
Qualifications are very important as a means of developing your financial career. Many finance jobs will require professional qualifications in addition to degrees. If you are just starting your job search then choose a company that values qualifications and will help pay for exams and study time during the training period. If you do have to pay for exams and qualifications yourself then this may cost money but it will be worthwhile in the long run when it comes to applying for higher level jobs.
Take Advice and Information
The best way to progress in your career is to take as much professional advice as possible. If you work closely with a senior member of staff then try and look on them as a mentor, someone who will give you invaluable professional information. Careers advisors will also be able to give advice on job progression and ways to continually update your professional skills. Make sure you read journals and magazines that are geared towards your specific industry. Information is one of the most important tools you will have towards finding ways to update your professional skills.
Do Your Homework
The finance industry is constantly changing and you will need to keep up with these changes. If you are considering a higher level job then make sure you have the appropriate skills and qualifications. In addition to these skills and qualifications, potential employers will be impressed with candidates that have thoroughly researched both the company and the job they are applying for. Candidates that can also show an awareness of recent changes and developments in the financial world will show a level of job commitment to employers.
Impress Your Employers
In some cases it may not be enough to sit quietly and do your work. Impress your employers; make them aware of who you are in the workplace and how important you are to the company. Come up with good business ideas that will make a difference to the company you work for. Employers may not always use these new business ideas but it will show that you are dedicated to improving the company. Think of new business ideas as part of your job, even if it is not one of your job requirements.
Make the Change
Don't let job opportunities slip away through fear of failing. You may not think you have the experience or skills to apply for higher level jobs but don't let that put you off talking to your employers. If there is a higher level job you are interested in then ask employers if they feel you would be a suitable candidate. They may say you are not ready at the moment but they will be impressed with your drive to climb higher up the company ladder. The next time a higher level job does become vacant they will no doubt keep you in mind.
Rapid career development will take a combination of skills, work experience, hard work, and qualifications. Employers know what they are looking for in an employee, and those employees that do impress in the workplace will always have the best chance of going far within a company.
You might also like...