Coping With Stress at Work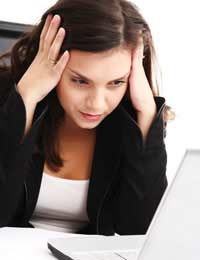 Increasing numbers of city workers are suffering extreme levels of stress, brought about by the credit crunch and fears of redundancy. So what can you do to try to combat stress at work?
The risks of work-related stress are increasing. Emergency helplines are dealing with record numbers of calls from men and women displaying signs of stress, such as stomach complaints, eating disorders, 'work rage' incidents and even some callers with increasing thoughts of suicide.
Why is City Life So Stressful?
The problem with the city is that the work culture is already a very stressful one. Early starts, long hours, pressurised working environments and an after-work drinking culture are just some of the problems associated with life in the Square Mile. The credit crunch is simply making matters worse by throwing redundancy into the stress mix.
Employees are more stressed than they used to be because companies are still trying to squeeze increasing amounts of work from fewer staff. Employers are aware that the job market is so small for city workers that they won't be able to find alternative work easily. Even if they do, there's no guarantee that they would be walking into a better working environment.
For many, the only choice is to work harder, continue to demonstrate a strong level of commitment to the company, and to keep their stress bottled-up inside.
How to Spot the Symptoms of Stress
In a 'dog-eat-dog' working environment such as the city, stressed workers become quiet adept at concealing their mental stress, both consciously and sub-consciously.
This means that stress often manifests itself in physical symptoms, including: headaches, skin complaints, palpitations, coldsores, insomnia and for women, missing their period.
If you find yourself suffering from these conditions more than usual, you should think about your stress levels, are they higher than normal?
How to Cope with Stress at Work
The first thing to realise about stress is that it is your own personal response to a situation or events. Different people react in different ways. It may not feel like you have a choice to make, but how you choose to interpret these events remains up to you.
First, take a look in the mirror, if you are feeling stressed there's a good chance that your physical appearance will show it. You may feel tired, irritable and anxious. Make sure that you eat well (with lots of fresh fruit and vegetables instead of convenience or snack food) and try to sleep regular hours. You'll feel more energetic at work and be able to think more clearly.
After a long day at your desk you probably feel too tired to exercise, but physical exertion remains one of the best ways to relieve stress. Try to get yourself down to the gym at least three times a week, at a time that suits you (before work or at lunchtime if you feel too drained after work).
The Benefits of Deep Breathing
Feeling like work is suddenly getting on top of you? Try deep breathing as a quick cure. Most people only use half of their total lung capacity. When we are stressed we take shorter breaths.
Try taking deep breaths (inhaling through your nose, slowly exhaling through your mouth) for two minutes. You'll feel instantly calmer and ready to take another look at the working piling up in front of you.
Seeking Professional Help
If none of these cures help reduce your stress levels, you should think about talking to someone. Perhaps a colleague who understands the pressures you are facing or, if you would prefer to keep it confidential there are a number of dedicated organisations such as the Stress Management Society that can listen to your concerns and offer helpful advice. Whatever you do, don't think that you have to cope alone.
You might also like...