Climbing the Finance Career Ladder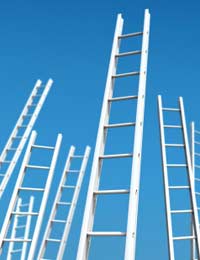 It may have taken time and effort to gain your first finance job but climbing the finance career ladder will also take a lot energy and commitment. Continually developing your work skills and gaining further professional qualifications will be needed if you are aiming to reach the higher level jobs within your career.
Make a Career Plan
Having a career plan is the easiest way of making sure your keep track of your career goals and ambitions. A common question asked by interviewers is, where do you see yourself in five years time? This question should be answered by your career plan. The plan should lay out what you expect from your career in terms of climbing the career ladder and the amount of time it should realistically take.
Write down the qualifications you will need to progress within your career and how long it will take to complete them. Look at where you career is headed in terms of higher level jobs. Find out how long it should take to get suitable experience before you can apply for these jobs. Above all be flexible with your career plan, this should be a guideline for your career, not a set in stone plan.
Career Development
Career development will take a combination of passing relevant exams, networking within your chosen industry and making the decision of whether or not to specialise. If you decide to specialise then you will narrow down your options with regards to choosing the qualifications you need to gain and the relevant finance sectors you can work in. Talking to people who are already employed in jobs you are considering will give you invaluable information. Networking is important, and gaining as many contacts as possible within your chosen career field will mean that you may gain inside information if jobs become available.
Promotion within Your Company
If you work for a large company, especially an international one, then there are always chances to climb the career ladder. Always show that you are interested in higher level jobs when they are advertised. If you have the relevant experience and skills do not hesitate to put yourself forward for an interview. Employers will be impressed with your career commitment and drive. They should also be impressed with your need to take on more work and responsibilities within the company. Promotion is never guaranteed, but making employers aware of your eagerness to progress should make them remember you in the future.
Further Qualifications
Gaining relevant professional qualifications is one of the best ways to aid career development. Employers should be able to advise you on the best training courses and qualifications that will help you climb the finance career ladder. Many employers offer training and courses to employees who are eager to further their skills and experience. Professional qualifications will make employees a valuable company asset, and many employers will pay for study time, courses, and exams.
Time to Move On
If you have been in your present employment for a number of years and promotion does not look possible then it may be time to move on. Do not be afraid of making the leap to another job with another company if you feel that your career has stalled with your present company. Your career is important and there are companies that value career development. Research all of the companies you would like to work for and contact them directly. Employers love the proactive approach, and good employers may see potential in you if you use the direct approach.
Take Professional Advice
There are a number of ways to find professional career advice. Careers advisers will be able to give valuable information on how to progress within your financial career no matter what level you are at. Recruitment agencies are always a useful job search option and can help you make the next move up the finance career ladder. Read industry related journals and magazines and find out how other people have made the progression to the higher levels of their careers. Career information is one of the most important tools you can have when deciding your next step.
Climbing the finance career ladder will take career commitment and the ability to continually develop your work skills and experience. Employers are looking for people who are ambitious and have the drive to further their careers. Those who have reached higher level jobs have usually sacrificed a lot of time studying for professional qualifications and proven to employers that they are an invaluable asset to their company.
You might also like...