Finance Jobs in the Charity Sector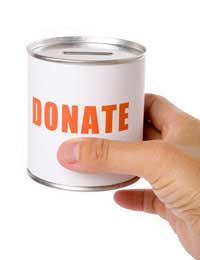 At present there are around 140,000 charities in Britain and there will always be a number of different finance jobs available in the charity sector. Smaller charities may not even employ any finance staff, but larger charities are more business like with their own finance departments. Most charity employees are motivated more by doing worthwhile work and putting something back into society rather than the financial rewards available.
What is the Charity Sector?
The charity or not for profit sector encompasses a large number of organisations. These can often include housing associations, universities, schools and voluntary organisations. Most, but not all charities are registered with the Charity Commission. The main aspects of the charities sector are that they are separate from business and government and they do not distribute their profits to shareholders. A charity's main aim is to be of benefit to the public, and many of the major charities have become well known public names.
Why Work for Charities?
Monetary rewards are not usually a motivating factor to those considering financial jobs in the charities sector. However this is not to say that financial jobs in charity are not financially rewarding. Accounts assistants can expect salaries of around £25,000 and senior auditor's salaries will be around £30,000 to £35,000. The salaries will usually not be as high as those working within the same job in business areas such as banking or the retail sector. However, salaries can still be very good for finance professionals working within the larger charity organisations.
Job Options within the Charity Sector
The larger charities do run their organisations in just the same way as other businesses. Career progression opportunities are available within finance departments and there are different financial jobs available to qualified individuals. These jobs will include:
Financial Accountants
Tax Accountants
Auditors
Financial Development Directors
Finance Managers
Finance and Administration Directors
Business Development Managers
Finance and Corporate Service Managers
Funding and Budget Managers
These are just a sample of the many finance jobs available within the charities sector. Salaries and benefits will depend on the size of the organisation and the geographical location.
Qualifications Required
Professional qualifications for finance positions will be required just as within any other business. There are graduate positions available within the charities sector but these are very few and far between, and the competition for places is fierce. There may be trainee positions available for part qualified finance professionals but funding for study time and exam fees will usually not be provided by employers. There are however internal training programmes available to employees in the larger charity organisations. Many graduates will take entry level positions such as administrators and finance support clerks simply to use these training facilities.
Where to Find Careers in Charity
The charities sector is an expanding business and employs a huge number of part time and full time finance employees. Vacancies are mainly advertised in local national newspapers; there are special employment sections dealing with this sector in the quality press. There are also a number of recruitment agencies that have vacancies for finance jobs in this sector. Finance jobs in the charity sector are among the better paid jobs, especially at senior levels. Senior level accountants can expect salaries of around £60,000 while a director of corporate finance can expect around £80,000 to £100,000 depending on the size of charity organisation.
Many finance professionals who work in the charity sector do claim that job satisfaction and the chance to give something back is more of a motivator that a high salary. This sector is a completely different business environment than the high pressure world of investment banking. However, it is still a business and there is a demand for qualified finance professionals. Those who are looking for their work to actually make a real difference to the world may find this sector hugely fulfilling.
You might also like...