Avoiding Career Burnout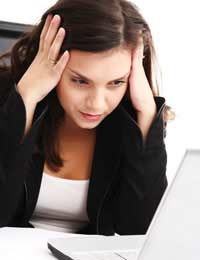 Avoiding career burnout may come down to recognising the signs of burnout when they initially appear. Career burnout can happen to anyone regardless of their profession and it is a very common problem. However, avoiding career burnout may also come down to avoiding stressful situations and ultimately, could mean a change of career.
What is Career Burnout?
Career or job burnout is defined as physical exhaustion and a lack of motivation due to extended periods off stress and frustration. Many people would simply categorise this as being sick of being in the same job day in and day out. However, burnout is usually caused by a number of different factors and the ultimate result of these factors can be depression. Career burnout will not usually just occur out of the blue; their will be motivating factors behind this condition. Recognising the signs of this problem and tackling them head on may help you to avoid this serious condition.
Signs of Career Burnout
Burnout will usually leave the sufferer emotionally and physically exhausted. The sufferer will also feel a range of negative emotions and feel that all their problems are overwhelming. Other signs of career burnout can be:
A feeling of complete hopelessness
Irritability to those around them including colleagues and partners
Feelings of detachment and apathy
Feeling like a failure
Feeling depressed all the time with the need to sleep
A feeling of powerlessness in the face of problems
Relying heavily on substances such as alcohol or drugs
Feeling continually bored with an inability to relax
These are just a few of the signs of burnout and every case will be different. Many sufferers will not actually realise they are in the grips of career burnout until someone points out how they have been behaving. Once burnout has started it is difficult to avoid the progression of these symptoms.
Avoiding Career Burnout
Recognising the signs as they begin to occur and what the motivating factors are may be one way to avoid the problem. However, there may not be one overall factor that causes this problem; for example too much stress on its own may not lead to career burnout. One of the best ways to avoid the problem is face it and tackle it head on. Talk to people such as therapists or your employer about this problem and see what can be done. In many cases the saying, "a change is as good as a rest" is true. Changing jobs or even changing your career may be the only way to tackle the problem. Ask for time off and if the problem does not go away then some career planning may be required.
Time for a Career Change
A career change may not always be needed but it could be the ultimate answer. Take things slowly and ask for a transfer to another department for period of time to see if this alleviates the problem. If this does not help then a complete career change may be needed, and career advice should be sought. Your work experience and qualifications may well be relevant within another career. Career planning from scratch will not seem like a tempting proposal but it may be necessary; seeking good career advice from professionals will be helpful. By tackling this problem head on and facing your fears you should see a significant decrease in your negative feelings.
Talk to Professionals
There are trained professionals who will be able to help with the problems of career burnout. Talking to therapists will help you to get a better understanding of the problems you are going through. Educating yourself on this very real problem will help you to accept and deal it. Many large organisations have employees who are trained to help with stress management and any help offered should be taken. Talking and dealing with the problem will be half the battle to beating career burnout.
If you are suffering from burnout then colleagues and partners will no doubt already have noticed the signs, and true friends will be sympathetic. Career burnout is not unavoidable but if left unchecked it can be a very hard fight to eliminate this problem. Employers are well aware of this condition and the problems it can cause and should try to offer as much help as possible. Beating the burnout should see your work and home life significantly change for the better.
You might also like...