Which Career? Take Our Questionnaire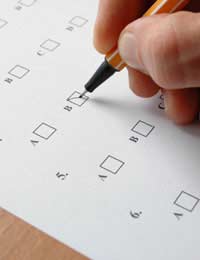 What gets you motivated to get up in the morning? Do you look forward to some tasks and do your best to avoid others? If you are interested in a career based within the financial industry, there are many options open to you. However, you may need a bit more direction to get started.
Take our financial questionnaire to find out which roles could suit you best. Answering these questions won't tell you which career to follow, but it will give you a greater insight in the sort of career paths that may be right for you.
1. What sort of degree do you possess?
(a) Business related (Economics, Business Studies etc) or MBA
(b) Bachelor of Science (BSc) in professional subjects (Sciences, Engineering, Law, etc)
(c) Bachelor of Arts (BA) in creative subjects (English, History, Art, Languages etc)
2. What would you say are your strengths?
(a) Analysing information and making decisions
(b) Organisation, project management and problem solving
(c) Communicating ideas effectively, working with people
3. How important is it for you to earn a large salary?
(a) Yes, very important, my studies were focused on getting a high-paying job
(b) Enjoying my work is the most important thing, money will follow
(c) Money is important, but I take pride in my work first and foremost
4. Are you comfortable working within a large corporate structure?
(a) Very comfortable
(b) A clear structure is important to me
(c) I probably favour a flexible working approach
5. Do you enjoy working with spreadsheets and analysing data?
(a) Yes, I have a talent for working with numbers
(b) I can work with numbers, to a certain level
(c) I prefer using words rather than numbers on a day to day basis
6. How do you feel about working long hours?
(a) It's a part of the job
(b) I prefer the nine-to-five and prefer not to have to take work home with me
(c) If I have to, in order to get a job completed
7. Do you enjoy explaining your ideas to other people?
(a) There's usually not enough time to talk other people through my ideas
(b) It's a challenge that I enjoy for the most part
(c) Engaging with other people and sharing ideas is often the best part of the job
8. Would you like to run your own business one day?
(a) Definitely, I have the skills needed to run my own company
(b) Possibly, if I could spot a good market opportunity
(c) Why not? I have good contacts and a network of potential clients
How Did You Answer?
Mostly A's
Your answers indicate that you are quite focused in your career aspirations, and that your skills are well suited to the financial world. You have an analytical mind and you like to do your own research. You are prepared to work long hours to achieve your goals and you work well on your own. This makes you a good fit within the fund management industry, as a fund manager, research analyst or investment director.
Mostly B's
If you answered mostly B's, this indicates that have a highly organised mind, good at problem solving and finding new challengers, but you are also able to use your talents to influence other people. You would be well-suited to a career in sales, recruitment, or an organisational role within a company, banking branch manager, team leader or division director.
Mostly C's
You seem to be a good communicator, have a good understanding of what makes people tick and how to get ideas across effectively. You are analytical but you like to share your ideas with other people in order to reach a consensus. Chances are that you have good presentation skills and are able to motivate people well. A career in marketing, PR, investor relations or corporate communications would be a good fit for your skill set.
Developing Your Own Career Path
Remember than in any role, or in any organisation, the most successful teams are made up of individuals with different personalities and skills that complement each other. If you are looking for a role within the financial industry, wherever you decide to begin your career, you will be rewarded for displaying all round qualities such as tenacity, enthusiasm and intelligence. Where your career eventually takes you, remains entirely up to you.
You might also like...