The World of the Headhunter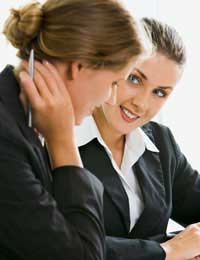 Did you know that more than 60% of financial jobs that pay a salary of more than £50,000 are not advertised? Instead companies use headhunters to fill these high-profile positions.
There is a great deal of mystery attached to the role of the headhunter, and chance are you've never heard the name of a headhunting company, such is the level of secrecy they usually operate to. However, this article will give you more of an insight into how headhunters work and how to become a headhunter.
What Is a Headhunter?
A headhunter is a highly skilled recruitment expert, employed by companies to seek out and target specific individuals for key roles within an organisation.
Usually the headhunter will be employed to find individuals from competitor companies, poaching the top industry talent and in doing so, giving their client a competitor advantage over one of their rivals.
Within financial services, the very best employees can often help to generate millions of pounds in profits for a company.
This means that headhunters, although popular with companies looking to hire, are feared and loathed by companies who are worried that their best employees could be poached.
How are Headhunters Paid?
Good headhunters are highly-respected professionals in their chosen field, and are able to charge clients large fees for their services like any other professional, such as lawyers or accountants.
The rewards on offer for headhunters are high. The best headhunters could earn a salary upwards of £100,000 per annum, with bonuses and 'finders fees' bringing their annual income closer to £1 million. Some clients are willing to pay as much as £500,000 for the successful addition of a single highly-valued employee into their firm.
They view such a fee as a small price to pay, proving the employee they recruit will soon be adding millions of pounds onto the corporate balance sheet.
Different Types of Headhunting Company
There are three distinctive types of headhunting firm. Right at the top of the pecking order are the 'search' companies. The tend to focus on recruiting at the most senior level, for managing directors, chief financial officers and chief executives.
Search companies keep detailed profiles on clients and also on high-level employees they believe could be of interest. Once a client contacts them to fill a role (for example after a chief executive has informed the company board of their intention to leave), the search company will draw up a shortlist of candidates, discuss them with the client and then make their approaches.
'Boutique' headhunters take a more varied approach. They will use a number of different methods to find good potential employees, including advertising roles, conducting informal searches and trawling through company records for the names of likely personnel.
Boutiques often cultivate lists of contacts within an industry and then contact those people to ask if they know of any colleagues who may fit a certain role.
The lowest level of headhunters are those that work on a 'contingent' basis, and are most similar to standard recruitment agencies. They will advertise a range of roles within a specific company and get paid for each role they fill.
They often rely on cold-calling a company in the hope that the person who answers the phone will be thinking about making a career change, or will know someone who might be.
What Training is Required to be a Headhunter?
Headhunting is not just a more expensive version of recruitment, although entry into the field is similar. Most headhunting firms expect their employees to have a good first class or 2:1 degree. More importantly, a headhunter will need to be confident, good at problem solving, highly motivated to succeed, able to demonstrate good communication skills and possess the ability to network.
Once you are fortunate enough to gain entry into a headhunting firm, you can expect your on-the-job training to take between twelve and eighteen months to complete. However, the best headhunters are those who have developed their skills, and book of contacts, over a number of years.
Headhunters depend on building up a bulging contacts book, establishing a strong rapport with clients and being a good judge of character when it comes to finding the right people for the right roles.
What Should you do if a Headhunter Contacts You?
If you are contacted by a headhunter, it is nearly always worth giving them a few minutes of your time, even if it means calling them back at a more convenient time to talk.
Let them discuss the role with you and allow them to take your details, even if you think the role is not right for you, or you are not looking to switch jobs anytime soon. In today's volatile jobs market, it always pays to remain on the radar of headhunters.
You might also like...