When an Internship Doesn't Lead to a Job Offer: Case Study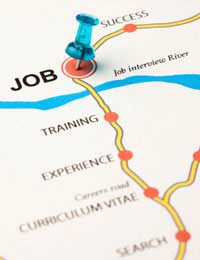 Taking up an internship with a large company is often the best way to get your foot in the door. It gives young, ambitious people the chance to show a company what they can do, and hopefully after the internship is up a full job offer will be the logical next step. This, however, is not always the case, as Tom, a 21 year-old history graduate, discovered.
An Intern's Tale
Tom won a place on the internship scheme of a large investment company based in Canary Wharf. After ten weeks of working within various teams throughout the business he was told that the firm would not be offering him a permanent role.
Tom takes up the story. "I thought that I had given a pretty good account of myself during my internship, but in the last couple of weeks I was starting to get worried. Other interns had already had been told about permanent job offers, but I hadn't heard anything. When I spoke to my contact in Human Resources they said that they hadn't been able to find anything suitable for me. I was gutted to say the least."
Sadly Tom's experience is not uncommon. Many candidates across a variety of different industries who thought that they would be taken on at the end of their internship have been left wondering what went wrong and what they should do next.
Prepare yourself for Positive and Negative Feedback
Tom's first step was to have a more in-depth discussion with his HR contact to determine whether there was anything he should learn from the experience.
He says "it was important for me to establish whether I was just a victim of the cutbacks the whole industry was going through, or whether it was something more personal that prevented me from getting a position.
To be fair, she said that it was a combination of things that meant that the couldn't progress with a job offer. The company only had a handful of places available to interns and it was felt that on a 'cultural' viewpoint some of the other candidates were a better fit than I was."
Taking Positives from the Experience
For Tom, the next step was to update his CV and to make sure that he was able to frame his experience in a positive light.
"I took a few days to work on my CV. I wanted to be able to use my experience to my advantage and to demonstrate what I learned during my time with the business. I had been proud of some of the things I had achieved while I was there, particularly a couple of projects I was given to work on, so I wanted to make sure that I was able to document these properly while they were still fresh in my mind," Tom said.
This is the right approach to take. One of the challenges that ex-interns face is the inevitable questions that will come up at interview asking him to explain why he didn't get taken on my the company he took the internship with. It is an obvious question to face, but the interview isn't looking for brutal honesty or an arrogant response about the company that didn't hire them.
Instead they are hoping to meet a candidate that has learned from their experience, isn't bitter about their former employer and who is looking for a more suitable role and has perhaps worked on improving some of their potential weaknesses.
The Importance of Networking
If you unexpectedly find yourself back on the job market after an internship doesn't work out, then it is important to return to networking as soon as you can. Tom made a start by retracing his steps and contacting all of the employment agencies he spoke to before he secured his internship.
Tom says; "I found some of these conversations extremely useful. Not only did it put me back on their radar in terms of potential future jobs that could come up, but they were genuinely interested to hear about how I had got on and what I thought were the reasons why I hadn't been offered a role.
"They were also very reassuring me in terms of getting me to appreciate that I wasn't the only person in this position, and that other ex-interns had been successful in finding work in the same industry.
"It is now six weeks since my internship ended and although I haven't found anything yet I do have a couple of interviews lined up. I think that I will be able to use my experience of the internship to help me with future interviews and working for those 10 weeks has given me plenty of things to talk about during the interviews so I'm feeling much more confident about the future now than I did six weeks ago."
You might also like...