I Went from Permanent to Contract Work: A Case Study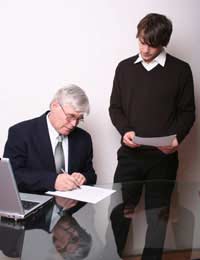 Gavin, 28, worked as web programmer for a large software and web development company. Having joined the company after graduating, he felt that seven years later, he needed a fresh challenge. Gavin decided to leave the comfort of his salaried position and instead look for contract work.
This case study explains the steps Gavin took towards contract employment and the important things to consider if you are thinking of doing the same.
Gavin explains "the decision to leave my job wasn't an easy one to make, but having been doing the same job for seven years it all felt over-familiar and stale. I wanted to stretch myself more at work, and I also wanted to earn the opportunity to make more money. My company didn't pay too well, so I was interested to find out what other options would be available to me."
Evaluating Job Skills
Gavin started to think about the sort of contracting roles he could attract if he decided to put himself on the job market. First he wrote a CV, setting down all of the skills he had accumulated over the years.
Gavin says "this was quite a challenge for me, as I hadn't written one in several years, but once I started putting my thoughts down I realised that over the years I had learned a lot in my role and there were several different web-based roles that I was more than qualified for. My skills could also be applied outside of the business areas in which I had experience."
After making sure his CV was up to scratch, Gavin searched through a number of employment websites, specifically seeking contract roles within web programming that closely matched his skill sets. One of the first things he noticed was that most advertised roles explained the job function required, but did not display the rate that would be paid for the role.
This was because most rates are negotiated, through the company, an employment agency and the contractor themselves, and can vary depending on the candidate's skills and experience levels.
Gavin says "this really spelt out to me that the easiest way to find contracting jobs, and to make sure you got a steady stream of future contracts, would be top build up good relationships with a few specialist agencies who could do the hard work for you."
One employment agency Gavin contacted proved particularly useful. They helped him to work out how much he needed to earn per month in order to be earning more than in his previous salaried position. They also suggested that he should plan in advance how long he could afford not to work, just in case finding a contract took longer than planned.
Finding a Contract
Gavin started applying for a number of different web-based roles and at the third interview he attended, he was offered a six-month contract.
Gavin said "the interview process was interesting, as it of course was focused purely on the contract job itself. I didn't have to worry about any of those "why do you want to work for this company" or "where do you see yourself in five years time" questions, which I always used to struggle with! The interviews were purely about the job in question, without any of the usual corporate trimmings."
Taking on a Contract
But Gavin soon realised that winning his initial contract was not the end of the process. He had to arrange for references to be sent to the agency, and also had to deal with IR35, which meant setting up an umbrella company which would invoice the company for Gavin's time and services, and would help to reduce the tax he would be required to pay.
"I was relieved that the agency understood all about IR35 and the tax implications. For a fee they set everything up for me, and the process of getting paid my weekly wage was very simple in the end," Gavin explained.
Gavin concluded: "I have just had my original six-month contract extended by another three months, and once that is finished, I have a few other potential contracts in the pipeline. I don't regret making the switch from permanent to contracting, because it's been relatively easy to move from one to the other, provided you have a good agency giving you advice. I would recommend becoming a contractor to anyone who is feeling dissatisfied with permanent work and would like to make a change."
You might also like...