Job Profile of a Financial Consultant or Advisor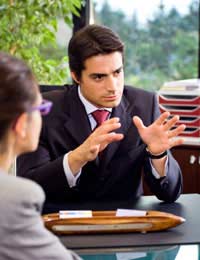 The job profile of a financial consultant or advisor is a wide and varied one. A large majority of the work involved is concerned with advising clients on their current and future financial plans. Researching financial products and finding the right financial solutions for clients are also part and parcel of the job role of a financial advisor or consultant.
A Career as a Financial Advisor
If you love dealing with a wide range of clients and have good financial skills and qualifications then a career as a financial advisor is worth considering. There is plenty of scope to work for a wide range of companies and the salary can be excellent. You will need good financial qualifications but there are tied financial advisory roles within companies where you will receive training. There are also many independent financial advisors (IFAs), who are self-employed and give advice on a huge range of financial issues.
Basic Job Roles of a Financial Advisor
Financial advisors or consultants do have a wide variety of tasks to perform within their job remit. They can sometimes be known as trouble shooters; this means advisors come in and thoroughly research an ailing company's financial dealings. Basic financial advisor duties will include:
Providing advice and solutions to companies or clients
Researching financial products that will best suit the needs of their clients
Helping clients meet sales targets, and meeting their own sales targets
Producing and analysing financial statements and reports
Making detailed assessments of clients' financial dealings
Trouble shooting roles where a consultant investigates where a client has gone wrong financially and how to fix it
Setting up meeting with clients and companies
Updating clients on a wide range of financial products for companies and personal finance products
These are just a few of the basic job roles performed by a financial advisor or consultant. Job roles will vary depending on the industry the advisor works in or whether they are self employed.
Tied Company or Self Employed?
There are a number of different options available with regards to where a financial advisor works. They have the option of working as a tied financial advisor, which means working for one company such as a bank and giving advice only on their products. They can also be multi-tied, which means working for a number of different companies but still only selling specific company financial products. The third option is to be an independent financial advisor working privately for clients and offering non-tied financial advice from a wide range of products including personal finance advice.
Qualifications Needed
All financial advisors will have to pass an exam as required by the Financial Services Authority. The Certificate in Financial Planning (Cert FP) is the basic qualification needed to become a financial advisor. From this qualification level there are a wide range of further qualifications that can be gained depending on the industry and specialised field. These certificates can include qualifications to specialise in mortgages, pensions, investment management, and insurance.
Required Skills for Financial Advisors
Basic required skills to work in this field include excellent communications skills both orally and in writing. Advisors must have good research and analytical skills and of course be financially minded. An attention to detail is required as is the ability to explain complicated financial matters in an understandable manner to clients. A driven approach to work is required as this role includes a lot of sales based work. Computer and mathematical skills will also be a requirement as well as excellent negotiating skills.
Salary Expectations for Financial Advisors
Financial advisors and consultants can earn very good salaries. Basic salaries for tied advisors can be between £18,000 and £25,000 and this is without commission. Commission on top of the basic salary will be dependant on meeting sales targets but will usually be advertised at around £30,000 to £50,000 per year. Talented financial consultants can earn more than these figures especially if working in the field of investment banking. Financial advisors or consultants who are tied to a certain companies such as banks will also receive many benefits and discounts on financially related products.
The role of the financial advisor can be a very varied, challenging and rewarding one. Good career progression is achievable to those that show a flair for this work, especially in the area of financial sales. Those considering this type of work must have a drive to succeed and be comfortable with the sales aspects of the role. But for those who show good financial aptitude and are not afraid of long hours this can be a very financially rewarding career choice.
You might also like...