Qualifications Needed for an Accountancy Career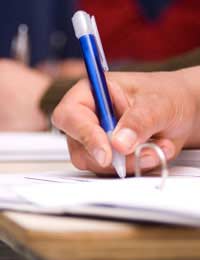 Gaining the professional qualifications needed for an accountancy career will help if you wish to broaden your career options. There are many entry level accounting jobs with minimal qualifications requirements but specialised accounting careers will need the relevant qualifications.
Accounting Qualifications are Invaluable
Employers will look favourably on candidates who have dedicated their own time to gaining accounting qualifications. With the right qualifications you will be seen as a valuable asset to any company. The right qualifications will also help with career development and progression. In most cases, the more professional qualifications you have gained the higher your salary expectations can be.
The Right Accounting Qualifications
There is a host of different accounting jobs, and if you are specialising in one area then you will definitely need the right qualifications. If you have finished a degree or are just starting your accountancy career you may think that your studying days are behind you. However, to reach the top of your career ladder you should consider all of the accounting avenues open to you, and that will mean further study. Researching your options regarding further study should include the long term view of how you see your career progressing, and your long term ambitions.
Association of Chartered Certified Accountants (ACCA)
This association offers a wide range of courses and qualifications for both professionals and those who are just starting out in accountancy careers. Qualifying to become a member of the ACCA will require three examination levels and at least three years of practical accounting experience. Although this qualification can be completed within a three year period it can be extended for those who need more time. The final outcome will be a fully qualified chartered accountants qualification.
Institute of Charted Accountants in England and Wales
One of the most highly regarded qualifications within a wide number of industries. Employer training contracts of a period between three to five years are needed before you can study for an ICAEW qualification. The employer will be paying for your qualification and investing their own time and money, so finding the right employer is vital. This is a very sought after business qualification in most industries, and a wider range of finance and accounting jobs will be available to qualified members.
Certified Accounting Technician
If you are looking for a way into an accounting career or looking to further your skills then you should consider a Certified Accounting Technician qualification (CAT). This qualification will give greater access to accounting support jobs. It is also very useful if you are considering taking the ACCA qualification in the future. For those just beginning their accounting career the Association of Accounting Technicians (AAT) will also be a useful qualification for gaining practical skills and theory in accounting work.
Chartered Institute of Management Accountants
This qualification is for those thinking of choosing careers as finance managers, management accountants or strategic financial management roles. The CIMA qualification is very focused on business planning and financial management. The course will comprise of three examination levels and three years of experience with an employer. This qualification can be used in a host of different finance careers and they do not have to be accountancy only jobs.
Other Accountancy Career Qualifications
There are numerous other accounting and finance qualifications available, and these can include-
Chartered Institute of Taxation (CIOT)
Chartered Institute of Public Finance and Accountancy (CIPFA)
Corporate Finance (CF)
Chartered Institute of Public Finance and Accountancy (CIPFA)
Association of Corporate Treasurers (ACT)
Investment Administration Qualification (IAQ)
Obtain Professional Advice
If you are already in employment within a financial job then your employer should be able to give advice on the right qualifications to develop your career. It will be worth taking the time to ask about career development policies through your employer. Some employers will pay for all tuition and study costs if the qualification is relevant to your job and will make you a more valuable asset to your employer. Careers advisors will also be able to give information and advice on the best qualifications to suit your long term goals and ambitions.
Gaining the right accountancy qualification will take extra study and will require sacrificing some of your personal time. However, the benefits in terms of career progression and salary expectations should be well worth the sacrifice in the long term.
You might also like...
currently working for a hotel as an accounts clerk and have done AAT level 3 and im very much willing to further my studies say maybe take a course in ACCA,what do i need to do? Your advice will be highly appreciated.
Pepe
- 12-Jan-15 @ 1:12 PM
Hi, I am currently working for a bank and I am very interested in becoming an account. I would like to get some advice, my qualifications aren't good but I'm looking to retake them. I had stopped studying after gsces which aren't good. Thanks in advance for the support.
Wasim25
- 14-Sep-11 @ 12:26 PM